In order to deploy the same content to multiple digital signage devices, a Content Manager Web playlist is used. Please note: Only digital signage admins can create new Content Manager Web playlists. Email dsign@iu.edu to request one.
CMW playlists have several behavior options. In most cases, the bolded options below will fit 90% of use cases.
Include only if player is empty
Always include before player templates
Always include after player templates
Override player templates
After digital signage admins create your new playlist, you can setup your template and content. Drag a template from your template repository to the playlist and then drag your content items to the main content region of the template.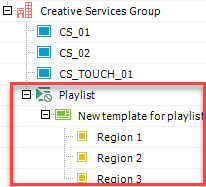 Save your work by clicking the floppy disc icon in the upper left of the screen.
Select the location where the playlist is located and click on the save and deploy button (rocket ship icon in the upper left of the screen). All signs in that location (or any sub locations) will recieve the template and content within.